Water & Energy – Elements of our Expertise
WE-Consult Ltd. was founded in January 2006 as an independent engineering and consultancy company. WE-Consult offers its comprehensive services mainly in the field of water and energy business. Although a newcomer company, our highly qualified experts can offer you professional know-how with state of the art technologies gained during more than 20 years of extensive experience. Put us to the test.

WE-Consult on IFAT 2008 – A Full Success
With the result of 2,560 Exhibitors, 120,000 visitors and a percentage of 30% international visitors IFAT 2008 in Munich clearly is the biggest exhibition for water, waste water, solid waste and recycling in the world. IFAT 2008 took place from 5th to 9th of May 2008 in Munich.
WE-Consult Ltd. was lucky tob e a part of this successful fair and WE clearly can say the tremendously big success of the total exhibition was mirrored fully on our concerns also.
On our common stand no. 215 in hall A2 with se.mo from Gelsenkirchen, HIK from Rhaden and GOK from Hamburg the stand team from WE-Consult Ltd. had the chance to lead a huge number of interesting discussions with both existing clients as well as with interested new possible clients. The discussions concerned the German as well the international Market. Based on the results of our talks we already today can say:
IFAT 2008 was a full success for our young company WE-Consult Ltd.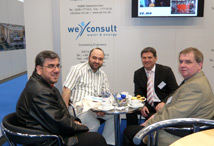 WE at GWP-stand on IFAT 2008
On the biggest international exhibition for water, waste water, solid waste and recycling WE-consult Ltd. was lucky to be able to introduce on two stands parallel, the own stand in hall A2 as well as under the roof of German Water Partnership e.V. (GWP) in hall A4.
The participation of WE-Consult on the GWP stand clearly shows our interest and readiness to work in the international markets and form partnerships with other companies from the German water and wastewater business for international projects on demand in order to increase the chances and the success.
GWP in a number of speeches made clear that networking is the only chance for success in this respect. Our pictures show the impressing stand of GWP and German minister for environment Gabriel in front of WE-Consult's logo during the opening ceremony of GWP stand on 5th of May.
The signs show green and WE are ready to follow !